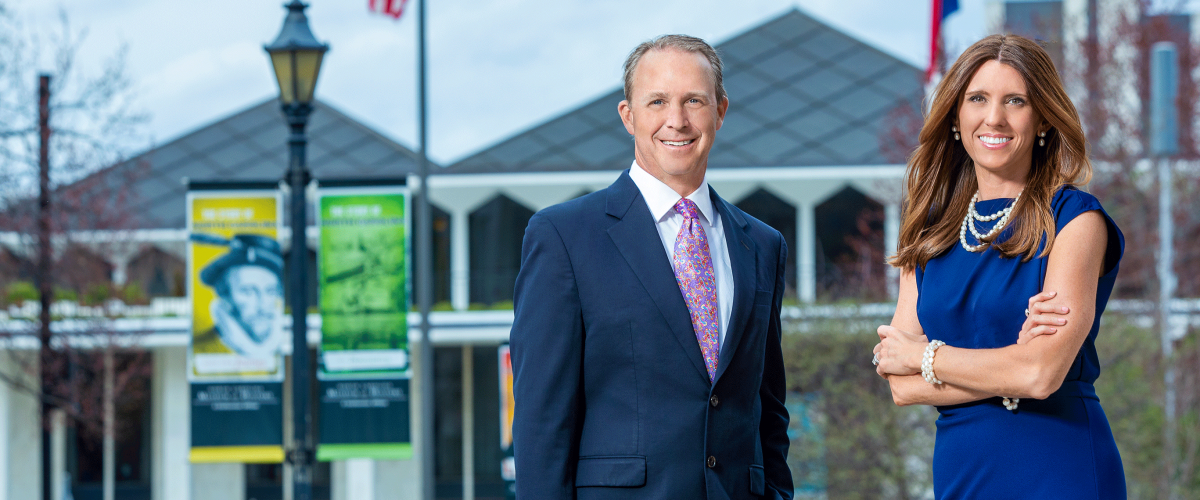 Legislative success is the result of a keen focus on building consensus, professional leadership, and positive political efforts.
Our professional and highly capable government relations team together have over 35 years of lobbying experience.  NCRMA was listed by the Southern Political Report as one of the Top Five Associations for purposes of lobbying in North Carolina.
NCRMA President and General Counsel Andy Ellen has been named one of the five most effective lobbyists in North Carolina by the North Carolina Public Policy Institute for the last three bienniums, as well as a recipient of the 2014 Triangle Business Journal's Corporate Counsel Award.
Senior Vice President of NCRMA Elizabeth Robinson is a past president of the Young Lobbyists Association and is the 2017-2018 President of the North Carolina Professional Lobbyists Association.
---
NCRMA's Top 21 Legislative Issues
1. Data Breach: NCRMA, along with other business groups, successfully fought a data breach bill that would have placed onerous requirements on business and increased penalties and litigation.
2. Emergency Management: NCRMA pushed for legislation allowing Emergency Management to extend the period of time that re-entry certifications are valid, so that businesses providing essentials within their communities can access their locations to get back up and running. (H374)
3. Municipal Sales Tax: NCRMA fended off efforts to allow municipalities to begin imposing a local-option sales tax which would have created an operational nightmare for retailers (HB 947)
4. Arrest Warrants: NCRMA passed legislation to correct a 2017 amendment that unintentionally made it very difficult for law enforcement officers to get arrest warrants issued from magistrates in cases like shoplifting or trespassing. (S168)
5. Milk Labeling Enforcement: The NC Department of Agriculture would have become the first State Department of Agriculture to enforce the Federal "standard of identity" for milk which would prohibit any product from being labeled as "-milk" if it did not come from a hooved animal. NCRMA was able to pass an amendment that requires 11 other southern states to enact similar legislation before North Carolina can enforce any such action. (S711)
6. Opioids/Reporting: Originally, there were problematic provisions that would allow local law enforcement to physically enter the pharmacy and search pharmacy records as well as a requirement for additional data fields to be submitted to the Controlled Substances Reporting System. NCRMA worked with legislators to ensure this was not the case and passed a bill that included all of the changes requested by community pharmacy. (S616)
7. Industrial Commission: NCRMA led the fight to help keep the Industrial Commission employer-friendly with both support for and opposition to nominees based on analyzed case data (HJR 1099, HJR 1100).
8. Food Handler Act: Initially required a substantial bonding requirement for handlers of fruits and vegetables and a registration with the Department of Agriculture with egregious penalties for noncompliance. NCRMA led the effort to make it a registration-only requirement, to exempt retail stores and lower penalties from $5,000 to $100. (S711)
9. Health Information Exchange (HIE): Legislation passed in 2015 that would require pharmacies to connect to the HIE and begin submitting data twice a day that pharmacies do not have through systems that do not exist. NCRMA was able to extend the compliance date, limit data submission to claims data through a pharmacy industry standard and to once (instead of twice) daily. (S368)
10. ABC Penalties: Through 26 versions of the bill, NCRMA led the effort to amend egregious penalties for ABC violations out of legislation (S714).
11. Medicaid: NCRMA helped maintain the "Pharmacy of Choice" Law and applied it to managed care while allowing for an exemption to the Pharmacy of Choice Law for the current opioid lock-in program for both Medicaid and the Private Health Care Market. (H156)
12. Human Trafficking Poster: NCRMA worked to allow the poster to be posted to employees only (rather than public-facing). The bill also moved the Human Trafficking Commission from the Department of Justice to the Administrative Office of the Courts. NCRMA will begin working with the Commission to design a new poster. (S335)
13. Franchisor/Franchisee Reporting: NCRMA was able remove an onerous provision that was recommended in the Revenue Laws Study Committee that would have required franchisors to file annual informational returns on their franchisees to the NC Department of Revenue. (S99)
14. Penalties for Failure to Carry Workers Comp: NCRMA worked on legislation that lowered the minimum penalty and provided an alternative penalty that ensures companies secure workers' compensation insurance coverage without putting them out of business. (S99)
15. Unemployment Insurance: NCRMA worked on this legislation to delay the effective date for a requirement tied to a new electronic reporting system that employers respond to UI claims in 10 days rather than 14 days until January 1, 2019 and to exempt direct sellers from the definition of employment for UI. (H931)
16. Captive Insurance: NCRMA worked to ensure that captive insurance companies domiciled in a state other than North Carolina ("foreign captives") are exempt from North Carolina's gross premium tax. The budget bill also modifies adjusted gross income and adjusts the sales and use tax definitions. (S99)
17. ABC Omnibus: NCRMA helped pass common-sense alcohol reform. (H500)
18. Lottery Commission: NCRMA fought a recommendation from the Program Evaluation Division to consider legislation lowering the retail commission from 7% to 6%. (S716)
19. Digital Instants: NCRMA successfully testified against an expansion to digital instant lottery games that would have eaten into sales at retail stores.
20. 2017 Food Code: Despite a push from the Division of Public Health and the NC Restaurant and Lodging Association, NCRMA Prevented the adoption of the 2017 Food Code in the short session as no other state has adopted it yet and NCRMA members have not had enough time to thoroughly vet the code to ensure it is not harmful to the grocery industry.
21. ABC Study: NCRMA is working with legislators on the Program Evaluation Oversight Committee to evaluate whether a privatized system of alcohol beverage control for spiritious liquor is appropriate for North Carolina along with other efforts to modernize.
---
Contact the NCRMA lobbying team by clicking on a name below.
---
The NCRMA lobbying team works to give a voice to the retail industry in North Carolina.
NCRMA members have the exclusive benefit to call on our legislative team at any time – we work on your behalf, meeting directly with state lawmakers and regulators to assist you so that elected officials understand how their actions affect businesses in our state. Whether it is the passage of positive legislation or stopping legislation that could negatively impact your business through taxes, regulations or fees, we are in your corner.
Because so many laws impact the retail industry, NCRMA is keenly interested in myriad state legislative and regulatory actions. For example:
• As business owners, retail merchants are concerned about tax issues such as corporate income, privilege license taxes, unemployment, and sales and use tax.
• Supporting strong laws against organized retail theft and a fair legal climate keeps NCRMA before the Judiciary Committees.
• NCRMA stays attuned to issues impacting pharmacies from product regulations to Medicaid reimbursement.
• As employers, retailers are concerned about employee health and safety issues and legislation that impacts employer-employee relations.
• Efficient delivery of goods to our stores (and customers) makes transportation an important component of a strong retail industry.
• Alcohol, tobacco and food safety issues are also of great interest to the grocery and restaurant industries.
• Store operations issue can be anything from locksmith licensing to plastic bag restrictions and NCRMA stays on top of it all on your behalf.